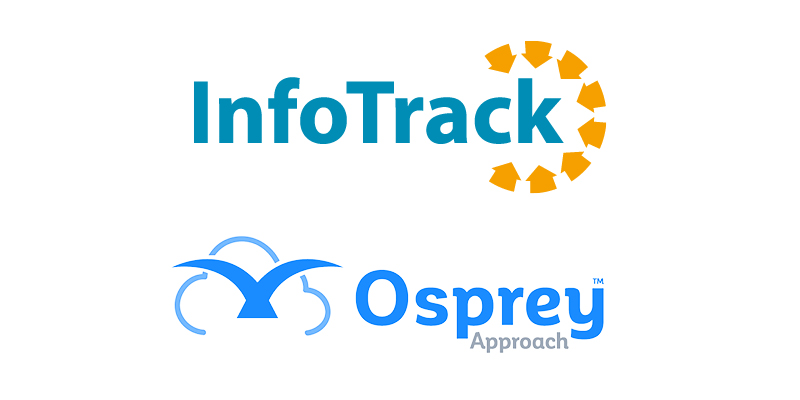 Osprey Approach and InfoTrack webinar to help firms prepare for digital switch for AP1s
Leading legal software provider Osprey Approach, and InfoTrack, award-winning providers of digital conveyancing solutions, are delighted to invite conveyancing practices to attend a joint webinar, to help them prepare for the digitisation of Land Registry's AP1 forms.
The webinar follows the recent announcement from HM Land Registry that from November 2022, it will no longer accept scanned or PDF copies of AP1s for changes to existing titles using the HM Land Registry portal. Instead, firms will be obliged to submit all register applications digitally.
With around 80% of AP1s still being submitted manually, many conveyancing practices must now prepare for the move to digital AP1s and familiarise themselves with the processes required for the change.
The webinar, to be held on 22 February, will show how InfoTrack's technology helps firms to move seamlessly onto digital AP1 submissions with its intuitive AP1 dashboard, which is already used by over a thousand law firms, and provides: –
Greater transparency across applications with simplified form filling;
Up to 90% of the AP1 form pre-populated using data from your matter;
Built in validations to help reduce requisitions;
A direct connection with Land Registry to respond to requisitions; and
The ability to digitise the entire conveyancing process through integration with Osprey Approach.
Sam Jordan, COO at InfoTrack said: – "This announcement marks a significant step change for the conveyancing industry and supports InfoTrack's vision to lead the digital development of conveyancing. As an early adopter of Land Registry's Business Gateway and digital submissions, InfoTrack processed the first digital AP1 submission back in 2016. Since then, we have successfully processed over 550,000 digital AP1 submissions, as well as the first AP1 submission with electronically signed witnessed deeds."
Chris Pucci, CEO at Osprey Approach said: – "When you combine the efficiency-boosting features of both Osprey Approach and InfoTrack, law firms have access to a powerful platform to deliver a quality, profitable digital conveyancing service. Firms can access all the InfoTrack services from within the Osprey solution to benefit from pre-populated forms to reduce errors, a centralised and organised matter history, and automated workflows that further increase productivity. We continue to develop our solution, and work with industry-leading partners, to ensure we provide a solution that enables our clients to stay competitive and successful."
To ensure that your firm is digital AP1 ready, please register for the webinar at the following link: – https://us02web.zoom.us/webinar/register/6116419394442/WN_tbKTopk8RnOS1b0F2Munyw