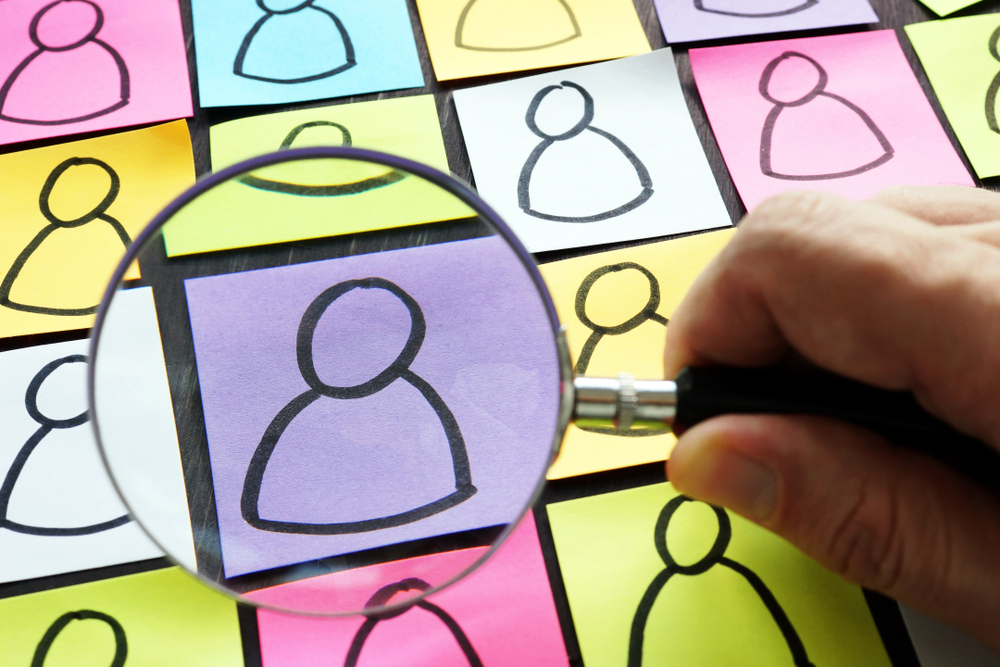 I have been banging the transparency drum, for nearly two years now and I will continue to do so. Initially, it was about understanding the rationale behind the SRA's new rules, to ensure I explained this to our financial advisory clients, so they could work effectively with their solicitor partners. However, over time the lessons from the Competitions and Markets Authority research that inspired the changes have become central to the advice I would give any business, providing professional advice and services to clients, whether they be solicitors and financial advisory firms.
It all comes down to my belief in what I call 'The Google Society' and the starting point for any consumer in need of legal or financial advice, that does not have an existing professional adviser, being internet research. If you buy into this contention, then how you present and differentiate your business, your services and the individuals that offer them becomes the most important single thing your firm needs to address.  If you do not buy into it then your viability and success going forward is under threat, because your competitors will. Embracing the SRA's 'Transparency Rules' and going beyond them, then becomes a fabulous opportunity, rather than a regulatory chore.
Whilst the SRA waited on their own research to be published, they kindly pointed me to a fabulous survey recently published by the Legal Services Consumer Panel, undertaken in February and March with over 3600 consumers of legal services. The results were highly revealing and only served to reinforce my firmly held views. Views subsequently reinforced by the SRA's own consumer, SME and Solicitor research, a summary of the regulator's findings can be found here.
On average a third of consumers shop around online before selecting a provider for the legal services they require. However this figure is 44% in the 18-34 age group (as high as 49% for conveyancing) and I see this as unsurprising yet significant because if you can win the client at a young age, for the first legal service, perhaps for a first house purchase is that not an opportunity to make that a long-term client?
Worryingly, only 35% of those asked recall seeing information on the lawyers/staff who were likely to be providing the services they required, the detail on the services and timing of the delivery. These aspects are fundamental to personalising the research and beginning to earn trust at an early stage and are included in Transparency. The SRA's on findings show slightly more progress on this front but we are still obviously on the beginning of the journey.
There are huge learnings to be taken from the research, which I strongly recommend you read here but here are the top 5 reasons for the selection of a provider, with some thoughts and tips: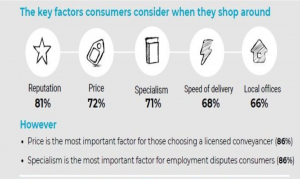 Reputation 81% – So how do you convey this? Glowing and recent testimonials on each areas of your site are a must and personal referral will be crucial. The SRA research suggested people are aware of lawyer comparison sites but actually prefer endorsements on the solicitor's own site. Firm and individual accolades and awards might play a part here. This is where your financial planning partners can be crucial recommending your firm for wills, LPAs and more.
Price 72% – This does not have to mean 'cheap' but fixed fees are popular with modern consumers. It is important to show likely prices but take the opportunity to detail how much is involved in the service and the stages because this enables the researching consumer to ascertain value which is what they truly want to know. The SRA research suggests researching consumers are mot put off by the price when displayed and explained but are suspicious when they cannot find it.
Specialisms 71% – Consumers want to know they are going to be dealing with specialists, experts in the field, so ensure you highlight where you have enhanced your knowledge. Is it Resolution, STEP or even Solicitors for the Elderly perhaps and what do these accreditations mean?
Speed of Delivery 68% – If you have customer charters then make them clear and, in each services description, ensure to set out likely timescales and importantly clarify where this will be outside of your control.
Local Offices/convenience 66% – Research will commonly start within a short radius of home/work, but you must capitalise on that, when the potential client finds you. This ties in with reputation, but how long have you been where you are, have you got involved with local initiatives, sports clubs or charities and do you write for a local paper or parish magazine?
There is so much more of value in the 12 page report, so do have a read of this and the SRA research, but remember that when it comes to the NUMBER ONE reason to using you being REPUTATION, then personal referrals to you by trusted financial planning partners is vital, as of course will yours be to them.
David Seager, Managing Director at SIFA Professional